Russian Holidays
Russian Easter - Pascha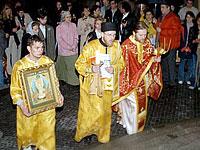 Pascha is the highest celebration of the Orthodox Church. Russian Orthodox churches herald in the glorious event with a service, beginning at midnight on Pascha Sunday. After the service, proclaiming Christ's Resurrection, Easter baskets are blessed and shared. This signifies the end of the Great Lent, a forty day period of fasting.
Holiday fare includes Pascha, which is adorned with crosses made of raisins. The Pascha is served with Easter sweet bread, or kulich, which is accompanied by vivid red colored hard boiled eggs. Red colour is a symbol of Easter and beauty.
The main course of the traditional Pascha dinner is lamb or ham. Easter is a holiday for visiting friends and relatives. The traditional greeting is, "Christ has arisen", to which one would respond, "truly arisen".
Russian Orthodox Pascha Sunday falls a week after Jewish Passover. This is a time of literal and spiritual cleansing. Spring cleaning and household repairs are accomplished and everyone looks forward to the traditional Easter feast. Holy Week, the week between the Palm Sunday celebration and the Saturday just prior to Pascha, is a time of fasting, reflection and repentance. Good Friday, like elsewhere in the world, is the most somber day of this week.
Pascha vigil, Saturday night, features a liturgy which climaxes at midnight. At this time, the darkened church is brought to life by the lighting of countless candles, church bells toll and the faithful pour out of the church, singing and praising Christ. Now, the feast begins! All kinds of meat; primarily ham and lamb; kulich, cakes, sweets - everything forbidden during the Great Fast is present on virtually every household table.
The Great Fast
After Maslenitsa, the Great Fast commences. This is a mandatory fast of 40 days during which no animal products may be eaten. This includes red meat, fish, poultry, milk, cheese, eggs, butter, etc. In other words, this is a strict diet of fruit, vegetables, beans and grains. Entertainment is also forbidden with the exception of cultural and religious concerts and singing. As Palm Sunday approaches, a sense of anticipation and joy breaks through the long days of fasting. This typically corresponds with the first signs of spring and flowers, toys, confections, etc. sold in the markets.
Easter egg is a major part of the Russian Easter celebration. As in pagan times, the egg symbolizes life and, to Christians, Salvation and Christ's Resurrection. Red dyed eggs are given to everyone as a gesture of love and wish for a good life. The hard boiled eggs are eaten and used in the traditional Easter cake (another great recipe).
During the Imperial days, the royal family would give colored and richly decorated eggs to the boyars and the nobility. In addition to chicken eggs, the practice of adorning wooden eggs began and became a part of Russian arts and crafts.