Pearls of Russia
Museums and memorial estates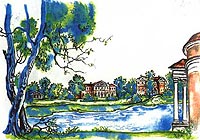 Literary and Art Museum "Priyutino"

The Priyutino estate, a scenery corner of the town of Vsevolozhsk, played its special role in the Russian culture. It is preserved as a monument keeping memories of the prominent people of art of the so called "Pushkin epoch". Priyutino is one of the rare 19th century country estates in the vicinity of St.Petersburg that survived up to our days.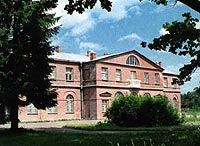 The splendid country house belonged to Aleksei Olenin, the first director of the Public Library in St.Petersburg and president of the Academy of Arts. It was not only Aleksandr Pushkin who was a guest of the house. The intimate and friendly atmosphere of the place and its owners erudition and unfailing charm invited the pick of the art community of those days, including painters Karl and Aleksandr Bryullovs, Orest Kiprensky, Fyodor Tolstoy, poets and writers Ivan Krylov, Konstantin Batyushkov, Vassily Zhukovsky, Aleksandr Griboedov, actors Ekaterina Semenova, Ivan Sosnitsky and many others - the full list would be endless.


On the restoration completed in 1990, the mansion of the memorial estate has been housing the exhibit of Russian history and culture showing life of its owners and guests. Personalia of the Olenins and their visitors, documents, original paintings, books are carefully preserved and displayed in the restored interiors. The park reconstruction with many buildings on the site is also started.

Address:
Priyutino memorial estate, Vsevolozhsk, Leningrad region; phone (270) 295 00

Open hours:
10 a.m. to 5 p.m. Closed Mondays and Tuesdays