SITEMAP
ROMANCE TOURS
INTERNATIONAL DATING
ABOUT RUSSIAN WOMEN
SCAM LIST
HOW AVOID FRAUD
RUSSIAN TRAVEL
DATING ADVICE
DATING SERVICES
SINGLES CRUISES
LANGUAGE COURSES
LEARN RUSSIAN
ABOUT RUSSIA
OUR SERVICES
ABOUT ME
CONTACT ME
Pearls of Russia
Museums and memorial estates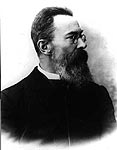 N. Rimsky-Korsakov Memorial House Museum

The Memorial House of Nikolai Rimsky-Korsakov in the town of Tikhvin, one of the oldest museums in Leningrad region, was founded in 1944 to commemorate the great composer centenary.



Nikolai Rimsky-Korsakov was born into a noble family with naval traditions. When a boy, he was sent to the Naval college and later cruised round the world. His early devotion to music, though, finally prevailed, making music his main occupation and leaving his marine experience a chance to be heard in his symphonic compositions. He was not only a composer who made an unmatched tribute to world opera music but also a conductor and professor of St.Petersburg conservatoire. Many of his operas like "Snowmaiden", "Sadko" or "Golden Cockerel", have the distinct flavour of Russian tradition, in terms of both music and plot.

Started from the Rimsky-Korsakovs family house as such, in the 70-ies the museum was supplemented with the garden, square and monument to the composer. In 1987 the building of the Polkovaya (Regiment) Church standing nearby was added to the memorial complex and the concert hall arranged there. Presently, the museum has a status of a national historic and cultural monument. The Days of Music festival is held here annually in March in memory of the great Russian composer.

Residents of Tikhvin, musical community of Leningrad and, especially, members of the composer family took active part in creating and setting the exhibit. The descendants of Rimsky-Korsakov donated more than 70 family relics including portraits and personalia of his parents and elder brother, a prominent navigator and director of the Naval college, and sheet music, books and other belongings of young Nikolai, as well as his grand piano.

The family house was built by Nikolai Rimsky-Korsakov's grandfather and was badly ruined in 1941 when Tikhvin was conquered by the Germans. Some details of decoration like plaster cornices, doors, tiled stoves survived. The interiors were carefully recreated basing on archival documents and research conducted.

Six memorial rooms - the lobby, father's study, mother's room, dining room, red and second drawing-rooms - are reconstructed. The impressive displays are arranged in the rooms.