Pearls of nature
Khingansk Reserve
Khingansk National Natural Reserve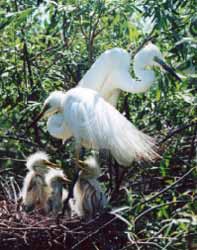 Khigansk Reserve is known as a paradise for bird-fanciers and experts. Specialists of the whole world know - this is a place of breeding of Far East White stork (Cicona boyciana), Japanese crane (Grus Japonenis) and Daursky crane (Grus Vipio). The reserve occupies about 100 thousand hectares in the southeast of Amurskaya Oblast, where the river Amur meets the mountain ridge Small Khingan. The reserve's borders follow the mighty Amur, which runs its waters for more than 4340 km from Mongolia to the Sea of Okhotsk. It is one of the greatest rivers of the world. The Amur serves as a natural border line between Russia and China for the space of 2735 km.
The landscape of Khingansk Reserve represents a unique combination of mountain woods, meadows and water-marsh areas, which are a natural habitat of six species of cranes and many other endemic species of Far East Russia. The Khingano-Arkharinskaya Lowland was registered in the list of water-marsh lands of international importance. About 900 species of plants grow in the territory of the reserve, including unique Southern Asia species: Korean pine (cedar), Amur cork tree, Mongolian oak and some others. Komarov's lotus has a special interest for tourists; its beautiful blossoms cover mirror-like surfaces of lakes in summer.
The reserve's pools and rivers are populated by about 20 species of fish, among which - umber and Amur catfish. As to mammals, roe deer and wild boars share the reserve with Himalayan bears, lynxes and wolves.
The world famous center on re- introduction of rare species of birds into wild nature operates in Khingansk Reserve. Vladimir Andronov, the director of the reserve, and its personnel began studying Japanese and Daursky cranes in 1982. The result of this work - semi-wild populations of both species. Researches managed to obtain extra egg layings and then placed them into an incubator. Eggs rescued from fires, and eggs of injured birds were also involved into the program. These created semi-wild flocks are more adapted to life in conditions of growing influence of men upon their nesting areas. Using radio transmitters, ornithologists had an opportunity to trace the whole route of birds migration. The results were amazing - earlier unknown wintering areas of birds were discovered in China, Korea and Japan.
During recent years researchers of the reserve organized many tours for tourists and scientists devoted to these majestic and beautiful birds. Visitors may observe rare Japanese and Daursky cranes, and Far East stork in their natural habitat. Many photographers and cameramen come to the reserve to have a unique opportunity to photograph nests and just hatched baby birds at a short distance. Visitors get many new impressions and useful knowledge from personnel of the reserve. Tourists may choose either small houses or residence in Russian families. They can hire automobiles and boats; attentive guides are also at their service.
Tourists come through the Trans-Siberian Railway from Khabarovsk to Arkharu, where the main office of the reserve is situated. This is a wonderful and comfortable night journey through the Arhharinskaya Lowland. Then two-hour bus trip brings you right to the beauty of these rare birds! This journey will leave unforgettable impression owing to hospitality of inhabitants and skillful guides, who will show you the most interesting sights of the reserve.
Address: 6, Dorozhny Lane, Arkhara Settlement, Arkharinsky Region, Amurskaya Oblast, Russia, 676740
E-mail: hingan@amur.ru