Pearls of nature
Olkhon Island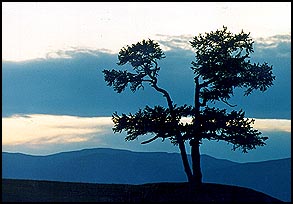 At 72 km long, Olkhon Island is the largest island on Lake Baikal and home to some of the most beautiful landscapes in the region. The island's appearance is a result of millions of years of tectonic development, resulting in the hollowing of this channel and the block of stone forming Olkhorn Island. If you gaze up at the steep slopes of the Primorsky Range, you can see the vertical heave of the Earth over the Obruchev Fault.
Zhima Mountain, at 1,274 m, is Olkhon Island's highest point; Baikal's deepest point of 1,637 m is also near the island. From Cape Kobylya Golova, the southwestern half of the island is steppe. The eastern side of the island has extensive forest cover with small passages of pine trees. Khuzhirtuy Bay lies behind the larger Shibetsky and Elgay Bays. There are five lakes on the island, including Nurskoe, Shara-Nur and Khankhoy. Baikal's strongest wind, the Sarma, is associated with Olkhon, and those who travel by water will remember its force.
Olkhon Island is wonderful place for hiking, biking and horse-riding tours, and the Maloye Sea is one of the best places on Lake Baikal for aquatic activities. The island is under the supervision of the Pribaikalsky National Park. The settlement of Khuzhir is the administrative center of the island.
A tourist visiting the island has the opportunity to see many places via short car excursions. All the routes on Olkhon Island are connected with the main road which runs across the island. Some of the sites to visit by car are Cape Burkhan and the Burkhan Cliff, Cape Sasa, Lake Khankhoy, the village of Peschanaya, and the Museum of Olkhon Nature and History in Khuzhir. The museum in Khuzhir is recommended for first-time visitors. Tickets are fairly cheap and there is an exibition which will familiarize you with the history and sites of Olkhon. Olkhon is also famed for the Shamanka Rock at Cape Burkhan. This sacred sight, located near the meterological station, is revered by locals. There are Buddhist inscriptions on the rocks, and an ancient cave-dwelling was recently discovered near the base.