Pearls of nature
Shebalinsky Region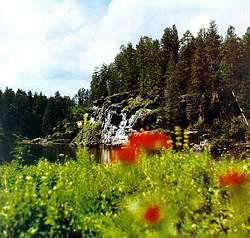 Shebalinsky Region is rich in historical and archeological monuments: burial mounds Tourak-1, Bolshoi (Big) Tolgoyek, site Tytkesken-2, Tchoba; burial mounds Iliinka, Shebalino, mounds of Ayula and Bike groups, Ust-Sema settlement.
A part of "Tsar Hunting" tourist base is situated on the territory of the Region.
Experimental farm of the Siberian Branch of Russian Academy of Sciences is in the village of Tcherga.
The climate of the Region is temperate continental, which is characteristic of the northern parts of the Altai Republic. Air masses from the Arctic Ocean and Middle Asia blow through the Region freely. January is the coldest month, when the temperatures fall up to - 40ŚC; the hottest month is July with the temperatures up to +38C; temperatures are mainly negative - in December, November, January, February, March and half of April. Temperatures are positive during all the rest months. Precipitation amount equals 600-1000 mm per year.
The distance between Shebalino and Gorno-Altaisk constitutes 122 km. Every-day bus communication with Gorno-Altaisk. Network of petrol stations in Shebalino.
A part of the tourist base "Tsar Hunting" is situated on the territory of the Region.
There is a departmental hotel of the regional Administration in Shebalino.
There is a possibility to hire horses. Horse-riding excursions.
Tar is produced in the village of Barlak.