Pearls of nature
Teletsk Lake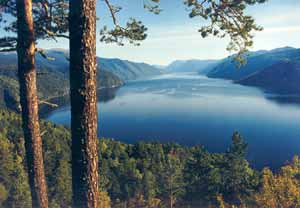 Teletsk Lake is a true pearl of The Mountain Altai. It is an extremely interesting tourist object, which grants interesting and cognitive rest to all categories of tourists.
Cramped by the Korbu and Altyntu Ridges, a narrow blue tape of Teletsk Lake is stretched for 78 km, while its width is only 5 km. The total area is rather small - 223 sq. km, however, due to the depth (to 325 m) it contains huge amount (40 billion cubic metres) of pure fresh water rich in oxygen. Giving its waters to the River Biya, the lake feeds the Ob. About 70 rivers and 150 temporal confluents run into the lake, the Tshulyshman River gives more than a half of all the waters.
Altaians dedicated many beautiful legends to Teletsk Lake, or Altyn-Kol - 'The Golden Lake" of the Altai. It is a magnificent wildlife sanctuary of Siberian nature, framed by majestic mountains with dark-conifer, mainly cedar, taiga. Every native can tell a story of the lake's name origin.
It was a long time ago. A poor shepherd in one of lean years found a big gold nugget. He was very happy because now he could buy food and clothes. He went to people and offered the gold. But people were so poor that no one could buy the nugget. The desperate shepherd climbed up Altyntu Mountain and thrown useless gold into the lake. Since then the lake was named 'Golden Lake'. The second name of the lake - 'Teletsk' - came from the name of a tribe of Altaians - the Teleses, who lived on the lakeside.
Teletsk Lake is often named 'the Second Baikal'. During one day you can go round it by a steam-ship and enjoy unforgettable panorama of mountain peaks, roaring waterfalls, steep rocks and even pebbly lakesides, capes protruded into water, quiet stony bays, gulfs and silver mountain rivers. A rare but dangerous natural phenomenon may be observed here at night: the rocks heated by the sun in the daytime are cooling very fast and "shoot" stones.
This nature does not call for strong sentiments, but one cannot find it severe either. Most likely you may say that the nature of Teletsk Lake is strict in its specific manifestation. This is the nature of Roerich and Kent.