Pearls of nature
Trans-Siberian Railway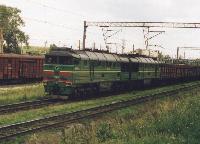 For those who travel for the pleasure of the journey, those who believe that getting there is as much fun as being there, Russia's Trans-Siberian Railway has long been an almost mythic experience. It is the longest continuous rail line on earth, each run clattering along in an epic journey of almost six thousand miles (or about ten thousand kilometers) over one third of the globe. For most of its history, the Trans-Siberian journey has been an experience of almost continuous movement, seven days or more of unabated train travel through the vast expanse of Russia. A great part of the pleasure of such a trip is simply sitting back and watching the land go by. However, most travelers on the Trans-Siberian find that interaction with other passengers, both Russians and tourists, is what makes the trip an unforgettable experience. Today, with far fewer travel restrictions, it is possible to use the rail journey as the core of a more varied tour. Travelers can enjoy stopovers in many of the Russian cities and towns along the route, from the historic Volga port of Yaroslavl to Irkutsk and the scenic Lake Baikal region.
Travel along the Trans-Siberian Railway is usually undertaken from west to east, though it is quite possible to go in the opposite direction. Moreover, a number of choices of route are available, as are extensions of the journey on either end.
The usual route taken by travellers is the Trans-Siberian line, which runs from Moscow to Vladivostok, passing through Yaroslavl on the Volga, Exaterinburg in the Urals, Irkutsk near Lake Baikal's southern extremity, and then Khabarovsk. From Vladivostok it is possible to continue by ferry to Niigata on the west coast of Japan.
A second primary route is the Trans-Manchurian line, which coincides with the Trans-Siberian as far as Tarskaya, a few hundred miles east of Baikal. From Tarskaya the Trans-Manchurian heads southeast into China and makes its way down to Beijing.
The third primary route is the Trans-Mongolian line, which coincides with the Trans-Siberian as far as the Buddhist enclave of Ulan Ude on Baikal's eastern shore. From Ulan-Ude the Trans- Mongolian heads south to Ulaan-Baatar before making its way southeast to Beijing.
In 1984, a fourth route running further to the north was finally completed, after more than five decades of sporadic work. Known as the Baikal Amur Mainline, this recent extension departs from the Trans-Siberian line several hundred miles west of Lake Baikal and passes the lake at its northernmost extremity. It reaches the Pacific to the northeast of Khabarovsk, at Imperatorskaya Gavan. While this route provides access to Baikal's stunning northern coast, it also passes through some pretty forbidding terrain.
To the west, connections are available through Moscow to Berlin (and from there to Paris), to Budapest, and to St. Petersburg (and from there to Helsinki).