Pearls of nature
Ulagansky Region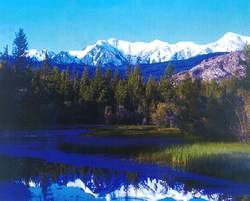 The valley of the river Bolshoi (Big) Ulagan is famous for the Pazyryk mounds. The chain of the huge excavated mounds of the Pazyryk Terrain, which is 16 km away from v. Ulagan near v. Balyktuyul, is first of all famous for its articles of art and objects of ritual cult of VI-II centuries B.C.
Nature of the Region staggers by its "wildness" and primordial beauty. Canyons, cascade, the Red Gate Rocks, the Tcheibekkel (Dead Sea) Lake cluster round the road from Aktash to Ulagan. Not very large lakes of the region are full of fish.
Ulagansky Region possesses a rich ethnographic potential. In v. Ulagan there is a small museum of the Telengits - the indigenous population of the Region, who are Christians in the fourth generation. There is a folklore group giving performances in other regions of the Republic.
The climate of the Region is severe. In winter temperatures fall up to -58C, while in summers maximum temperatures are +33C. Daily amplitude of temperature fluctuations in summer is quite high (up to 40C).
Annual air temperature amplitude is over 90C. Duration of non-frost period equals 50 days - from the end of July up to the beginning of August. Average annual precipitation amount is approx. 340 mm.
The journey to v. Ulagan (411 km southwards from Gorno-Altaisk) and to the Pazyryk Terrain may be a part of the thematic itinerary from Aktash (by the Tchuisky Highway), i.e. a part of the itinerary by the Tchuisky Highway. The Regional center is 56 km away from the Tchuisky Highway. Bus communication - three days a week (by odd-numbered days).
Network of public catering in the Region is presently being developed. A wide assortment of national dishes is offered by cafes "Teremok", "Tchelkanov". Tourist complexes "Altyn-Tuu" and "Taiga Bay" are situated in the Region. Tourist complex "Mandilu" - a traditional place for celebrating of the national holiday El-Oiyn is situated at the Alpine level. Children's Summer Camp "Kok-Taman" occupies a place 2000 m above the sea-level, on the bank of the picturesque mountain lake. A wide range of national souvenirs made of wood, wild animals' skins, bones and other traditional materials are offered.