Pearls of nature
Ust-Koksinsky Region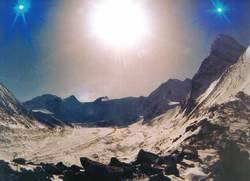 Due to its close disposition to the Belukha mountain and the lakes Talmenye, Multinskoye and Akkemskoye, Ust-Koksinsky Region and the village of Ust-Koksa - the regional center - are the starting points of many tourist itineraries, especially attracting "active recreation" fanciers (hiking tours, mountaineering, rafting) and requiring special sports training and instructor's guidance. A tour around Old Believers' villages of the Uimon Valley (v.Multa, v.Tikhonkaya, v.Verkhniy Uimon, v.Gagarka) starts at Ust-Koksa. Cultural tourism in this Region includes a visit to the Regional Studies Museum named after N.K. Roerich, and Old Believers' Museum in v. Verkhniy Uimon. Archeological monuments of the Region include the stone image (20 km away from v. Tyungur, down the Katun; difficult of access), the excavated burial mound (III century B.C. - I century A.D.) in the area of v. Katanda, rock carvings on the right bank of the Kucherla River, in the mouth of the Kuilyu Brook.
Ust-Koksinsky Region attracts a great number of pilgrims, bending their steps towards Belukha Mountain, to the Roerich's places. There are several maral-breeding farms in the Region (including those in the villages of Multa and Verkhniy Uimon), where not only marals are bred and the curative beverage is made, but various medicinal treatments are offered. Ecological itineraries (ecopaths) and scientific programs for schoolchildren and students are being developed on the territory of the Region.
The climate of the Region is continental, due to the predominance of south-western air masses. Maximum absolute temperatures are observed in July (+34C), while absolute minimum - in January (-56C). Average winter temperatures equal - 23,3C; +15,4C - in July; average year temperature - 1,9C. The average annual precipitation amount is 517 mm.
V. Ust-Koksa - the center of Ust-Koksinsky Region - is situated 401 km away from Gorno-Altaisk. There is an every-day bus going from Gorno-Altaisk and stopping at Tuekta, Ust-Kan, Ust-Koksa and Tchendek (8 hours' journey).
Tourist base "Kucherla". V. Tyungur. Capacity - approx. 50 people.
Hunting base "Antara". In the low reaches of the Katun, on the right bank.
Tourist complex "Kucherla". At the foothills of the Belukha mountain, on the bank of the Kucherlinskoye Lake. Capacity - 30 people.
Tourist base "Vysotnik". V. Tyungur. Capacity - 30 people.
Tourist base "Talan". V. Ust-Koksa. Capacity - 25 people.
Every tourist base of the Region disposes experienced instructors, specializing in a certain kind of tourism (rafting, horse-riding tourism, hiking tourism, mountaineering).
The State Nature Preserve "Katunsky" is situated on the right bank of the Katun.
Manufacturing of valenki (felt boots, Russian national footwear), manufacturing of wicker sledges in v. Multa, wood souvenirs - in v. Tchendek, v. Bashtala.
The "Katunsky" Preserve plans to manufacture and sale various articles of folk trade for tourists.