Ukraine ****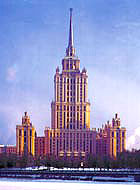 from $60 + VAT

shops and kiosks, refreshment bars and cafes, beer and wine bars, restaurant (Russian, Ukrainean and European cuisine, orchestra and variety show performances), business center, conference hall, sauna, hairdresser's, laundry, automobile rental, excursions and other hotel services.
Address:
2/1, Kutuzovsky prospekt.
Russian Bride Guide


Contact Us



THIS PROGRAM IS THE SOLE PROPERTY OF RUSSIAN BRIDE GUIDE AND MAY NOT BE COPIED IN ANY WAY OR FORM WITHOUT EXPRESS PERMISSION FROM RUSSIAN BRIDE GUIDE.

© COPYRIGHT 1996-2020 - ALL RIGHTS RESERVED.