Brezhnev L.I.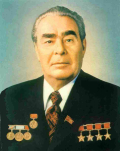 Brezhnev L. I. was born on December 6, 1906 in Kamenskoye settlement of Ekaterinoslav province, in Russian family, which lived in Ukraine. Being the student of metallurgical institute he joined VCP (b) in 1931. After graduation (1935) he worked as the director of technical school, then hold a number of party posts and by 1939 had become the regional committee secretary in Dnepropetrovsk. In 1941-1946 Brezhnev was political commissar in the Red Army, where he rose to the rank of major-general (1943) and the chief of political department of 4th Ukrainian front. In 1946-1950, Brezhnev worked in Ukraine as the first secretary of Zaporozhye and Dnepropetrovsk regional committees of Communist party. In 1950 he was directed to Moldova in the rank of the first secretary of the Central Committee of Communist party of Moldova.
His work in sovietization of Romanian population of this republic promoted party career. Brezhnev was elected member of Central Committee of Communist Party (1952-1982), candidate member of Presidium of Central Committee and secretary of Central Committee, but on the eve of I.V. Stalin's death, joint sitting of CC plenum, Council of Ministers and Presidium of the Supreme Soviet freed Brezhnev from duties of CC secretary and candidate member of Presidium. Breznev was appointed to a less significant post of deputy chief of the Main political department of the Soviet Army and the Navy, and in 1954 the second secretary of CC of Communist Party of Kazakhstan. With the beginning of the virgin and long-fallow lands development program, Brezhnev was promoted to the post of the first secretary of CC of Communist Party of Kazakhstan and soon transferred to Moscow where was again elected candidate member of CC Presidium and CC secretary.
Having supported N.S.Khrushev in the struggle against "antiparty group", which tried to displace Khrushev from the post of the First secretary of CC in 1957, Brezhnev was promoted from candidate member to full member of CC Presidium. On May 7, 1960 Brezhnev was elected nominal head of the Soviet state and the Chairman of Presidium of the Supreme Soviet of the USSR and left the his post in CC Secretariat. In three years Brezhnev again returned to be one of secretaries of CC, and in July 1964 was compelled to go out of office in Presidium of the Supreme Soviet to be assistant of Khrushev and actually the "second" secretary of the Central Committee of Communist party.
Playing a serious role in the preparation of the coup in the top party governing body, Brezhnev was elected the First secretary of CC after displacement of Khrushev from this post. With consolidation of authority by time of XXIII congress of CPSU (1966), Brezhnev was elected to the post of Secretary general of CC, the post, which before him had been occupied only by Stalin. Till the end of the 60s Brezhnev shared authority with the Chairman of Council of Ministers A.N. Kosygin, but already in the beginning of the 70s achieved position of "the first among equals", and by the middle of the decade had taken the position of country leader of the country and gained absolute authority. Having achieved the displacement of N.I. Podgorny, the Chairman of the Presidium of the Supreme Soviet of USSR, Brezhnev took this post again on June 16, 1977. In the same year the third Soviet Constitution "the constitution of advanced socialism" was adopted. Last years of life Brezhnev suffered serious decline of health that had negative effect on political influence. Brezhnev died on November 10, 1982
Back