Russian Travel

RUSSIAN TRAVEL TIPS
It's worth taking only the things you really need - there's nothing worst carrying your heavy backpack, sweating, tired and knowing that you carry so much crap you don't really need.Be aware that airlines can charge one percent of a first-class fare for every kilogram over the limit, which will be about $20-50 per kilogram (1 kg = approximately 2.2 lbs). If you travel by local Russian airlines, the limit for the checked baggage is 20 kg (approximately 44 lbs), and they will not allow a single pound over the limit unpaid. If you are going to bring back some souvenirs/books, try to ensure your bag doesn't weigh more than 15 kg (33 lbs), so you have a few kilos spare for all those shopping you will do.
Don't forget documents, money, good shoes, a raincoat, a sweater, a towel, Soaps, shampoos, deos, sanitry towels, condoms are available everywhere in Russia, but there might be problems with good condoms and some brands of sanitary towels in small remote towns, and in the nighttime. The recommended dress code for Russia is smart casual, or formal (the better you dress, the better people will think about you). You cannot be overdressed in Russia.I would not recommend wearing shorts as they are considered a disgrace, but if you go on your own and want everybody around to know you are a foreigner, do wear shorts. But remember women, do not feel comfortable in a company of a man in shorts, even if she won't admit it.
If you're going to moskitoes areas, like St. Petersburg, Novgorod region, Northern Russia (Karelia), it's nice to have a something against moscitoes.

In any season of the year, including summer, be prepared for an occasional cold (5-7 degrees C, or 41-44 F)
Check Weather info
.
If you came in Winter, it'll be minus 10, snowy, so you will need a warm hat, trousers, a sweater, a really warm coat and good warm shoes that won't get wet.
RUSSIAN CUSTOMS.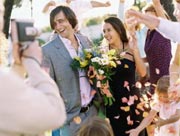 Don't bring drugs, weapons, and other stuff you can get here.
PHOTOGRAPHY & VIDEO.

The Films. The films are readily available everywhere in Russia, especially Kodak Gold (100, 200, 400) brands. If you need some special type of film, either bring it with you, or buy them in Moscow or St. Petersburg (the price is usually not the same as in other countries).
Rusian TIME.

Time in the European part of Russia is 3 hours more than Greenwich meridian time or two hours more than central European part. (+3 GMT or +2 CET). So if in London it's 10.00 in Moscow it's 13.00 (in Russia 24-hour system is used). Every year clock goes 1 hour forward in the last Sunday of March and back 1 hour in the last Sunday of October. There are 11 time zones in Russia - so when it's evening in Moscow, it's morning in Vladivostok (Russian port on the Pacific Ocean).
OPEN HOURS.
State institutions, offices, companies are usually opened from 9.00 or 10.00 to 18.00 or 19.00 and do not work on Saturday, Sundays and public holidays. The food stores are usually opened from 8.00 to 20.00 except on sundays from 8.00 to 18.00. Big department stores, clothing stores, supermarkets are opened all week long from 9.00-10.00 to 9.00-10.00. There are many currency exchange offices in the big cities (Moscow, St. Petersburg) working until late night and sometimes 24 hours a day. On public holidays all banks, offices, museums and some shops are closed. However big department stores, food stoes, supermarkets are all opened.
ELECTRICITY & PHONES.

In Russia the electricity of 220 volts and 50 hertz is used. The electricity is quite cheap, so people don't care about sparing it. The power sockets are same to French ones, but are different from the American ones, so consider buying an adapter - it's very cheap. The phones use the pulse dialing and the quality of the connection is not good. The sockets are different too. There's only small fixed monthly fee for local phonecalls (in Moscow & St. Pete), but if you make international calls it's very expensive.
WEIGHTS & MEASURES.
Metric system is used in Russia.
EMERGENCIES

Dealing with the police. The laws in Russia are not very different from the European or American ones. It's just that the fines are lower. Police is Militsia (Милиция - Militsia) in Russia. Policemen are bad paid, so if you do something illegal you can always come to an agreement with them. Also try to be very nice to policemen, it's important for your safety. At the same time if they want to rob you because of some made-up reason (like registration), just show you're not going to pay, so they'll understand they won't make money on you and they'll get off. If you get stopped on the street. Here all the people must have a passport (not ID or a driving license) with them, carrying it all the time. Of course, almost nobody does. You can carry a copy of the passport, but it's better to have original. If you don't have passport with you, militsia may take you to the police station for up to 3 hours to find out who you are. Foreigners must have a passport and a registration with them. If stayed in Russia for less than 3 days instead of the registration papers you should show them a ticket which you used to enter the country. If you forgot your passport you can try to show them id or something, pretending you don't understand them and if they don't let you go you can try to give them money - bribe. Be prepared that when they realize you're a foreigner they'll try to take as much money as they can. The usual price for small infringement is 100 roubles (4$). If you don't have a registration it's 100-200 roubles (4-8$). If you're at the police station for an infringement, they must notify the embassy of your native country. Do not forget that if you are in the police station you have the right to call to your embassy and not to talk or sign anything before you have a lawyer. But don't be very pushy with police.
[ Travel Tips ] [ How to avoid problems ] [ What I need to have ] [ Visas info ] [ Airfare ] [ Fiancee Visa info ] [ Embassies ] [ Russia hotels ] [ Russian flats ]
About Russia
[ About Russia ] [ Listen to the national anthem of Russia ] [ The Russian State flag ] [ The Russian emblem ] [ Power structure of Russia ] [ Regions of Russia ] [ Cities of Russia ] [ Nations of Russia ] [ Russian Culture and Art ] [ Russian History ] [ Russian Geography and Aature ] [ Learn Russian ] [ Learn Russian ] [ Religion in Russia ] [ Russian Holidays ] [ Russian Weather ] [ Russian Names ] [ Russian Love Words ] [ Russian Slang ] [ Learn Russian ] [ Russian Wedding ]
Travel
[ Russian Travel Tips ] [ How to avoid problems in Russia ] [ What I need to have in Russia ] [ Russian Visas info ] [ Russian Airfare ] [ Fiancee Visa info ] [ Embassies ] [ Russia hotels ] [ Russian flats ]
Dating Tips
[ DATING ADVICE ] [ 1st Date ] [ Getting Ready for a Date ] [ Great Date Ideas ] [ A Date Conversations ] [ 1000 Ways to say *I Love You*. ] [ Engagement Tips and ideas. ] [ Age Difference ] [ How win her heart ] [ If you are over 40... ] [ Dating a single Mom ] [ Argue advice ] [ The cornerstones of relationship ] [ About Presents ] [ Sizes in Russia ] [ Meaning of Flowers ]
ONLINE CONVERSION
Convert just about anything to anything else. Over 5,000 units, and 50,000 conversions.