Chukotsky Autonomous Okrug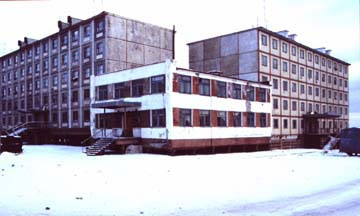 Chukotsky Autonomous Okrug borders upon Koryak AO, Magadanskaya Oblast and the Republic of Sakha (Yakutia).
The climate is extremely severe. Winters last 8-9 months. The average temperature of January on the shore of the Bering Sea varies from -15 to -21 degrees, in the inner parts - from -27 to -39 degrees centigrade. The lowest temperatures are from -38 and -55 degrees centigrade. Summers are short, cool and rainy. The average temperature of July in the northern districts is 5 - 8 degrees above zero, on the shore of the Bering Sea it is 9 -10 degrees. Precipitations are 200 mm a year. The permafrost is everywhere.
Vegetation is mainly that of tundra. Bushes, lichen (reindeer moss, Cetraria), moss, etc.
The region includes 8 districts, 2 cities, 18 urban settlements and 45 villages.
The regional centre is Anadyr (the population on the 1st of January, 1998 is 13,2 thousand inhabitants). The city was founded in the year of 1965. The distance between Magadan and Anadyr is 1525 km.
The economy.
The basic industry is the mining industry (gold, tin, tungsten, mercury, black and brown coal). Manufacture of building materials is also developed here. The main industrial centers are the cities of Anadyr, Pevek, Bilibino, the urban settlements of Iultin and Beringovsky.
Fishing, hunting, reindeer breeding, dairy cattle breeding, poultry farming, swine-breeding and fur farming are also developed here.
The local ports are Pevek, the settlement of Providence, Anadyr, Egvekinot, Beringovsky.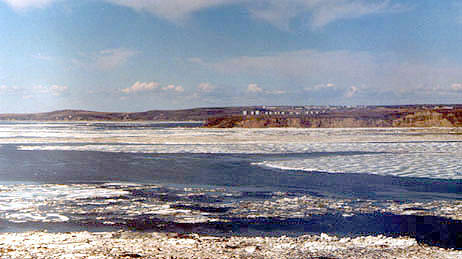 The rivers Anadyr, the Velikaya, the Bolshoy and Maly Anyuy are navigable.

Chukotsky AO is washed by the East Siberian Sea, the Chuckchee Sea and the Bering Sea.

The largest rivers are the Anadyr (with its tributaries Main, Belaya, Tanyurer), the Velikaya, the Amguema, the Omolon, the Bolshoy and Maly Anuy. There are a lot of lakes, the largest among them are the Krasnoye and the Elgygytgyn.

The minerals are the deposits of tin and mercury, black and brown coal, gas, etc.

The word 'Chukotka" originates from the Russian name of the ancient people Chukchis (own name Lygoravetlan). The word "Chukchis" means "rich in deers" ('chauchu'). Thus, "Chukotka" means the residence of deer people (the Chukchis) under power of Russia.

The Northeasternmost museum of Russia is situated in Chukotski AO, in the settlement of Providence. The Museum of Local Lore tells about the discovery and development of the Chukotski Peninsula, about the culture of the Chukchis and Eskimos.
REGIONS OF RUSSIA

Aginsky-Buryat AO I Altaisky Krai I Amurskaya Oblast I Arkhangelskaya Oblast I Astrakhanskaya Oblast
Belgorodskaya Oblast I Bryanskaya Oblast I Chelyabinskaya Oblast I Chitinskaya Oblast I Chukotsky AO I Evenksky AO I Irkutskaya Oblast I Ivanovskaya Oblast
Jewish Autonomous Oblast I Kaliningradskaya Oblast I Kaluzhskaya Oblast I Kamchatskaya Oblast I Kemerovskaya Oblast I Khabarovsky krai I Khanty - Mansiysk Autonomous Okrug I Kirovskaya Oblast I Komi-Permyatsky AO I Koryaksky Autonomous Okrug I Kostromskaya Oblast I Krasnodarsky Krai I Krasnoyarsky Krai I Kurganskaya Oblast I Kurskaya Oblast I Leningradskaya Oblast I Lipetskaya Oblast I Magadanskaya Oblast I Moscovskaya Oblast I Murmanskaya Oblast I Nenetsky AO I Nizhegorodskaya Oblast I Novgorodskaya Oblast I Novosibirskaya Oblast I Omskaya Oblast I Orenburgskaya Oblast I Orlovskaya Oblast I Penzenskaya Oblast I Permskaya Oblast I Primorsky krai I Pskovskaya Oblast I Rostovskaya Oblast I Ryazanskaya Oblast I Sakhalinskaya Oblast I Samarskaya Oblast I Saratovskaya Oblast I Smolenskaya Oblast I Stavropolsky krai I Sverdlovskaya Oblast I Taimyrsky AO I Tambovskaya Oblast I The Adygea Republic I The Altai Republic I The Bashkortostan Republic I The Buryatia Republic I The Chechnya Republic I The Chuvash Rebublic I The Dagestan Republic I The Ingushetia Republic I The Kabardino-Balkaria I The Kalmykia Republic I The Karachayevo-Circassian Republic I The Karelia Republic I The Khakasia Republic I The Komi Republic I The Mari El Republic I The Mordovian Republic I The North Ossetia I The Sakha Republic (Yakutia) I The Tatarstan Republic I The Tyva Republic I The Udmurtia Republic I Tomskaya Oblast I Tulskaya Oblast I Tverskaya Oblast I Tyumenskaya Oblast I Ulyanovskaya Oblast I Ust-Ordynsky Buryatsky AO I Vladimirskaya Oblast I Volgogradskaya Oblast I Vologodskaya Oblast I Voronezhskaya Oblast I Yamalo-Nenetsky AO I Yaroslavskaya Oblast I





[ About Russia ] [ Listen to the national anthem of Russia ] [ The State flag ] [ The State emblem ] [ Power structure of Russia ] [ Regions of Russia ] [ Cities of Russia ] [ Nations of Russia ]