Kaliningradskaya Oblast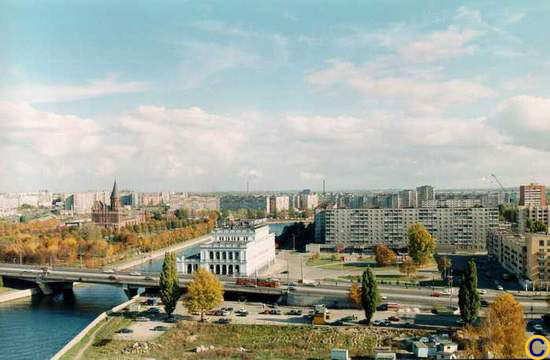 The smallest region of the Russian Federation - Kaliningradskaya Oblast - is located in the west of Russia and has the detached position from other territory of the country. It is completely separated by overland borders of the foreign states and the international sea waters.
Territory of region - 15,100 sg. km.(0,1% of sq. RF) - one of the smallest territories of Russia; Density of the population - 63 men/sq.ì. (The third place in Russia).
Population - 950 000, include 77% of urban population, 23% - rural; men - 48,3%, women - 51,7%.
Ethnic composition:
russian - 78%, belorussian - 8%, ukrainian - 7%, lithuanian - 2%, german 0,6%, pole - 0,5%, and other (In total 97 nationalities).
Climate: annual rainfall - 600 mm, average January temperature - 2.8° C, average July temperature +17.5° C, minimum temperature - 30°, Maximum temperature + 36° C.

Indeed, in 1255 the main castle of Koenigsberg was founded on bank of the Pregel river. Since the beginning of its history, Koenigsberg actively participated in trade activities as a member of the Hanza Union. The University of Albertina was the main spiritual and cultural center of the city, which gave many impulses to the life in the city as well as to neighbors from the Baltic region.
Since World War II, the political map of Europe changed indeed and the former capital of Eastern Prussia, Koenigsberg be-came a Russian city named Kaliningrad. Today, Kaliningrad is an administrative center of the most western territory of Russia. The borders of the region were determined according to the Potsdam Conference of the Allies in 1945. One third of Eastern Prussia with capital of Koenigsberg was allocated to the former USSR and two thirds of it were attributed to Poland. The main part of the German population abandoned the territory together with the withdrawing army.
In 1946, Koenigsberg was renamed "Kaliningrad" and became an administrative center of the Kaliningrad region.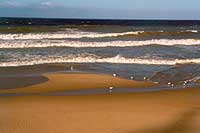 Kaliningradskaya oblast is formed according to the Decree of Presidium VS of the USSR from April, 7, 1946.

The mode of special economic zone operates in region, the preferential mode of investments and enterprise activity, including external economic is established.

The resort zone reaches on hundred kilometers along Kaliningrad coast, opening hospitably doors of the fantastic cities and settlements.
REGIONS OF RUSSIA

Aginsky-Buryat AO I Altaisky Krai I Amurskaya Oblast I Arkhangelskaya Oblast I Astrakhanskaya Oblast
Belgorodskaya Oblast I Bryanskaya Oblast I Chelyabinskaya Oblast I Chitinskaya Oblast I Chukotsky AO I Evenksky AO I Irkutskaya Oblast I Ivanovskaya Oblast
Jewish Autonomous Oblast I Kaliningradskaya Oblast I Kaluzhskaya Oblast I Kamchatskaya Oblast I Kemerovskaya Oblast I Khabarovsky krai I Khanty - Mansiysk Autonomous Okrug I Kirovskaya Oblast I Komi-Permyatsky AO I Koryaksky Autonomous Okrug I Kostromskaya Oblast I Krasnodarsky Krai I Krasnoyarsky Krai I Kurganskaya Oblast I Kurskaya Oblast I Leningradskaya Oblast I Lipetskaya Oblast I Magadanskaya Oblast I Moscovskaya Oblast I Murmanskaya Oblast I Nenetsky AO I Nizhegorodskaya Oblast I Novgorodskaya Oblast I Novosibirskaya Oblast I Omskaya Oblast I Orenburgskaya Oblast I Orlovskaya Oblast I Penzenskaya Oblast I Permskaya Oblast I Primorsky krai I Pskovskaya Oblast I Rostovskaya Oblast I Ryazanskaya Oblast I Sakhalinskaya Oblast I Samarskaya Oblast I Saratovskaya Oblast I Smolenskaya Oblast I Stavropolsky krai I Sverdlovskaya Oblast I Taimyrsky AO I Tambovskaya Oblast I The Adygea Republic I The Altai Republic I The Bashkortostan Republic I The Buryatia Republic I The Chechnya Republic I The Chuvash Rebublic I The Dagestan Republic I The Ingushetia Republic I The Kabardino-Balkaria I The Kalmykia Republic I The Karachayevo-Circassian Republic I The Karelia Republic I The Khakasia Republic I The Komi Republic I The Mari El Republic I The Mordovian Republic I The North Ossetia I The Sakha Republic (Yakutia) I The Tatarstan Republic I The Tyva Republic I The Udmurtia Republic I Tomskaya Oblast I Tulskaya Oblast I Tverskaya Oblast I Tyumenskaya Oblast I Ulyanovskaya Oblast I Ust-Ordynsky Buryatsky AO I Vladimirskaya Oblast I Volgogradskaya Oblast I Vologodskaya Oblast I Voronezhskaya Oblast I Yamalo-Nenetsky AO I Yaroslavskaya Oblast I





[ About Russia ] [ Listen to the national anthem of Russia ] [ The State flag ] [ The State emblem ] [ Power structure of Russia ] [ Regions of Russia ] [ Cities of Russia ] [ Nations of Russia ]