Jewish Autonomous Oblast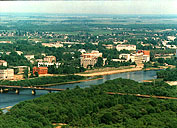 Thousands of miles east of European Russia, the Jewish Autonomous Oblast was founded in 1934 as a "homeland" for Soviet Jews. Given the objectives of the Soviet government at the time, this distant outpost seemed a perfect location.
Early attempts by the government to relocate the Jews to the Crimea and Ukraine had ended with a severe local backlash. To avoid local opposition the government chose an area where there weren't any locals. Unfortunately for the Jewish migrants, there was a good reason why virtually nobody lived in this region: the winters are extremely harsh, the roads were practically nonexistent, and the land was swampy.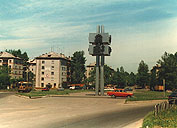 Influenced by an effective propoganda campaign, and starvation in the east, 41,000 Soviet Jews relocated to the area between the late 1920s and early 1930s. But, by 1938 28,000 of them had fled the regions harsh conditions, There were Jewish schools and synagogues up until the 1940's, when there was a A resurgence of religious repression after World War II. The Jewish population was essentially inactive until the late 1980s an early 1990s, when there was something of a revival in Birobidzhan.

Today, students can take Hebrew and Yiddish lessons, as well as Jewish culture classes at schools and two institutes in town. Most of the Jewish population has left for Israel, Europe or the US, and by some estimates only 3,000 Jews remain in Birobidzhan.

Jewish Autonomous Oblast is favourably enough located from the economic - geographical attitude on the Far East. In the west it borders with the Amur area, in the east - with Khabarovsky Krai. The direct affinity to coast of Pacific ocean and to the countries of this large region, including China, allows to have wide economic and cultural communications with these states to develop mutually advantageous trade. The area is the important transit part in transport connection of the European areas of Russia and the Western Europe with the countries of Asian - Pacific pool.
REGIONS OF RUSSIA

Aginsky-Buryat AO I Altaisky Krai I Amurskaya Oblast I Arkhangelskaya Oblast I Astrakhanskaya Oblast
Belgorodskaya Oblast I Bryanskaya Oblast I Chelyabinskaya Oblast I Chitinskaya Oblast I Chukotsky AO I Evenksky AO I Irkutskaya Oblast I Ivanovskaya Oblast
Jewish Autonomous Oblast I Kaliningradskaya Oblast I Kaluzhskaya Oblast I Kamchatskaya Oblast I Kemerovskaya Oblast I Khabarovsky krai I Khanty - Mansiysk Autonomous Okrug I Kirovskaya Oblast I Komi-Permyatsky AO I Koryaksky Autonomous Okrug I Kostromskaya Oblast I Krasnodarsky Krai I Krasnoyarsky Krai I Kurganskaya Oblast I Kurskaya Oblast I Leningradskaya Oblast I Lipetskaya Oblast I Magadanskaya Oblast I Moscovskaya Oblast I Murmanskaya Oblast I Nenetsky AO I Nizhegorodskaya Oblast I Novgorodskaya Oblast I Novosibirskaya Oblast I Omskaya Oblast I Orenburgskaya Oblast I Orlovskaya Oblast I Penzenskaya Oblast I Permskaya Oblast I Primorsky krai I Pskovskaya Oblast I Rostovskaya Oblast I Ryazanskaya Oblast I Sakhalinskaya Oblast I Samarskaya Oblast I Saratovskaya Oblast I Smolenskaya Oblast I Stavropolsky krai I Sverdlovskaya Oblast I Taimyrsky AO I Tambovskaya Oblast I The Adygea Republic I The Altai Republic I The Bashkortostan Republic I The Buryatia Republic I The Chechnya Republic I The Chuvash Rebublic I The Dagestan Republic I The Ingushetia Republic I The Kabardino-Balkaria I The Kalmykia Republic I The Karachayevo-Circassian Republic I The Karelia Republic I The Khakasia Republic I The Komi Republic I The Mari El Republic I The Mordovian Republic I The North Ossetia I The Sakha Republic (Yakutia) I The Tatarstan Republic I The Tyva Republic I The Udmurtia Republic I Tomskaya Oblast I Tulskaya Oblast I Tverskaya Oblast I Tyumenskaya Oblast I Ulyanovskaya Oblast I Ust-Ordynsky Buryatsky AO I Vladimirskaya Oblast I Volgogradskaya Oblast I Vologodskaya Oblast I Voronezhskaya Oblast I Yamalo-Nenetsky AO I Yaroslavskaya Oblast I





[ About Russia ] [ Listen to the national anthem of Russia ] [ The State flag ] [ The State emblem ] [ Power structure of Russia ] [ Regions of Russia ] [ Cities of Russia ] [ Nations of Russia ]