Elista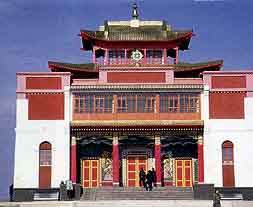 Elista is the capital of the Republic of Kalmykia. The city is situated in the southeast part of Ergeney, in the heart of endless Kalmyk steppes. The year of 1865 is considered to be the year of the city foundation. Now the population of Elista is about 100 thousand people.
In the beginning of XX century Elista became a centre of Manychsky ulus of the Astrakhan province. In February 1918 in Elista the Soviet regime was established. In 1930 Elista became a city. During the Great Patriotic War Elista was occupied by fascist aggressors. On the 31st of December the city was liberated by the Soviet Army.
During the last years Elista has turned to a comfortable modern city with a high level of cultural life. Now Elista is the political, administrative, cultural and economic centre of the Republic of Kalmykia.
The central and biggest square of the city is named after V.I.Lenin.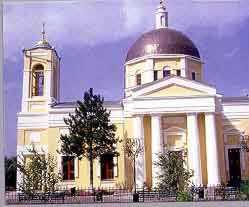 Exhibits of the Republican Museum of local lore named after N.Palmov acquaint with the history of development and formation of Kalmykia.
The big event in the cultural life of the republic was foundation of the Drama Theatre named after its founder Baater Basangov in 1936.
There are the Kalmyk State University, the Automobile Technical School, the Medical and Culinary colleges, the School of Arts, the Humanitarian, Commercial and Technical licea, 3 professional schools, secondary schools and kindergartens in Elista.
Sights of Elista.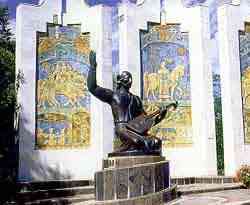 The biggest Buddhistic temple of Kalmykia was built in October 5, 1996. Construction of the temple lasted for 4 years.

Here are the Kazan Cathedral and some churches. In 1996 the Patriarch of Moscow and Russia Alexy II visited Kalmykia.
CITIES OF RUSSIA

Abakan I Aginskoye I Anadyr I Arkhangelsk I Astrakhan I Barnaul I Belgorod I Birobidzhan I Blagoveshensk I Bryansk I Cheboksary I Chelyabinsk I Cherkessk I Chita I Ekaterinburg I Elista I Gorno-Altaisk I Groznyi I Ioshkar-Ola I Irkutsk I Ivanovo I Izhevsk I Kaliningrad I Kaluga I Kazan I Kemerovo I Khabarovsk I Khanty-Mansiysk I Kirov I Kostroma I Krasnodar I Krasnoyarsk I Kudymkar I Kurgan I Kursk I Kyzyl I Lipetsk I Magadan I Maikop I Makhachkala I Moscow I Murmansk I Nalchik I Naryan-Mar I Nizhny Novgorod I Norilsk I Novgorod the Great I Novosibirsk I Omsk I Orenburg I Oryol I Penza I Perm I Petropavlovsk-Kamchatsky I Petrozavodsk I Pskov I Rostov the Great I Ryazan I Saint-Petersburg I Salekhard I Samara I Saransk I Saratov I Smolensk I Stavropol I Syktyvkar I Tambov I Tomsk I Tula I Tver I Tyumen I Ufa I Ulan-Ude I Ulyanovsk I Vladikavkaz I Vladimir I Vladivostok I Volgograd I Vologda I Voronezh I Yakutsk I Yaroslavl I Yuzhno-Sakhalinsk I