Izhevsk
Izhevsk is the capital of the Republic of Udmurtia . It is situated on the banks of the river Izh, 40 kms away from its flowing into the river Kama. Distance to Moscow is 1129 kms. It is a railway and highway junction. There is an airport. The population is 650,7 thousand inhabitants.
From a small ironworks up to largest industrial enterprises for tens of thousands of workers - this is the way of industrial Izhevsk. Izhevsk is a cradle of new aspirations and a working city keeping glorious traditions.
It was gunmakers that earned glory for Izhevsk.
Manufacture of weapon in Izhevsk started with foundation of the armour works in June 10, 1807. The initiator of construction was Andrey Fedorovich Deryabin. In 100 years after that citizens erected a monument to him on the quay opposite the works. The Izhevsk enterprise was the third armour works established in Russia.
Today's Izhevsk is the large industrial, cultural and scientific centre of the Russian Federation. Dozens of industrial enterprises work in the city. "Izhmash" joint-stock company produces machine tools, automobiles, motorcycles, home appliances. "Izhstal" joint-stock company - high-quality steel and profiles. "Izhevsk mechanical plant" - hunting and sporting weapon, motorcycle engines, complex electronic engineering. "Neftemash" joint-stock company manufactures petroleum equipment. "Kupol" Izhevsk electromechanical plant makes antiaircraft missile complexes. "Aksion" joint-stock company - complex electronic equipment, space communication facility, household audio engineering. "Izhevsk radio plant" is responsible for radio receivers and communication facility. Three Izhevsk enterprises - "Izhmash" joint-stock company, "Izhstal" joint-stock company and "Izhevsk mechanical plant" public enterprise are included into Russia's two hundred largest enterprises. More than half of production of Udmurtiya is made in Izhevsk.
Due to development of hi-tech manufacture the powerful intellectual, scientific and technical potential is concentrated in Izhevsk. Scientists and employees of 23 scientific and research centres and institutes carry out research work in the field of physics, applied mechanics and economics. They participate in development of the general plan of the city, problems of ecology, land tenure, development of the city social sphere.
The high level of expert training is provided by 160 doctors and 1000 candidates of sciences working in 4 state and 3 nongovernmental institutes and 10 colleges: the Udmurt State University, the Medical, Mechanical and Agricultural Institutes.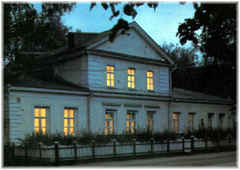 In 100 schools study more than hundred thousand pupils, and 32 thousand children are brought up in 230 preschool establishments. The traditional type of the educational school and kindergarten is gradually changed by new models, establishments of advanced educational level. The system of additional education is recommended by the Ministry of Education of Russia for other regions as a model.

Among the Izhevsk theatres are the Russian and Udmurt Drama, the Musical Theatre, the Izhevsk Puppet Theatre, circus, philharmonic society, the Museum of local lore, the Fine Arts Museum.
CITIES OF RUSSIA

Abakan I Aginskoye I Anadyr I Arkhangelsk I Astrakhan I Barnaul I Belgorod I Birobidzhan I Blagoveshensk I Bryansk I Cheboksary I Chelyabinsk I Cherkessk I Chita I Ekaterinburg I Elista I Gorno-Altaisk I Groznyi I Ioshkar-Ola I Irkutsk I Ivanovo I Izhevsk I Kaliningrad I Kaluga I Kazan I Kemerovo I Khabarovsk I Khanty-Mansiysk I Kirov I Kostroma I Krasnodar I Krasnoyarsk I Kudymkar I Kurgan I Kursk I Kyzyl I Lipetsk I Magadan I Maikop I Makhachkala I Moscow I Murmansk I Nalchik I Naryan-Mar I Nizhny Novgorod I Norilsk I Novgorod the Great I Novosibirsk I Omsk I Orenburg I Oryol I Penza I Perm I Petropavlovsk-Kamchatsky I Petrozavodsk I Pskov I Rostov the Great I Ryazan I Saint-Petersburg I Salekhard I Samara I Saransk I Saratov I Smolensk I Stavropol I Syktyvkar I Tambov I Tomsk I Tula I Tver I Tyumen I Ufa I Ulan-Ude I Ulyanovsk I Vladikavkaz I Vladimir I Vladivostok I Volgograd I Vologda I Voronezh I Yakutsk I Yaroslavl I Yuzhno-Sakhalinsk I